Pioneers of Lean Six Sigma Black Belt in India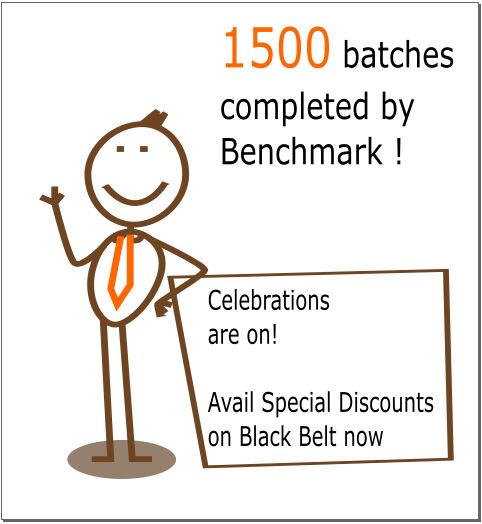 Background
Lean Six Sigma presents the world's best business problem solving methods in a single capsule. Lean was initiated at Toyota for waste elimination and later adopted in all manufacturing and service industries. Six Sigma has its roots in best problem-solving methods compiled from all over the world by Motorola and has evolved with approaches like DFSS, DMADV and DMAIC. Lean and Six Sigma were integrated about a decade ago and practiced jointly as Lean Six Sigma. It provides the most potent methodology for business problem solving.
For professionals in any function, Green Belt is seen as the first level in the Excellence journey. With Lean Six Sigma Black Belt competence, people are equipped for taking up cross functional projects for solving Business Problems. The highest level is the Master Black Belt. Master Black Belt is a coach and guide for Lean Six Sigma practitioners.
Objective
The goal of Lean Six Sigma Black Belt programs is not only to help participants build problem solving competence but also to gather leadership and change management skills so that they can lead improvement projects at their workplace.
Pre-requisite
Completion of Lean Six Sigma Green Belt training is a pre-requisite for appearing in Lean Six Sigma Black Belt program for most people.
Duration
6-12 days- Public training.
6-16 days- In-company training.
The duration for in-company Black Belt depends on few aspects given below.
If a person has completed his Green Belt earlier, the Black Belt training duration reduces
The statistical rigor desired by the Organization
Inclusion of Action Learning Workshops – If a company wants to learn through workshops for real internal scenarios, the duration is longer
Enhancement via other Business Excellence techniques – If an organization wants custom created Black Belt Program that includes additional tools like Creativity, TOC, Simulation etc, the duration increases
Number 1 in India
Benchmark Six Sigma is number 1 for Lean Six Sigma Black Belt in many ways.
In 2003, Benchmark initiated the first Lean Six Sigma Black Belt program in India. The only other provider in India at that time was Motorola University from USA. The program has been evolving and is reviewed and revised every year
We train the largest number of Black Belts in Public and Corporate programs (250+ every year)
The large network of Black Belt certified professionals has now crossed 3000. 40000+ professionals have been certified in various competencies put together. You can find a Benchmark Six Sigma certified Black Belt professional in practically every large company in India
The number of Black Belt programs conducted by Benchmark Six Sigma has crossed 150 in 2019 out of a total of 1500+ batches
We moderate the largest Lean Six Sigma learning community (among top three forums in the world)
The largest number of hiring requests in this community are generated from within our network, several of them are fulfilled indirectly through our forum
Here are 15 key elements that differentiate us from others
Who Can Benefit
Professionals who wish to solve business problems using a structured approach can benefit from Lean Six Sigma Black Belt
Anyone who wants to improve an Organisation's performance
Process Improvement team members who wish to carry out improvement projects
Any progressive management professional who wants to bring change for the better
Anyone who wants to build competence that is domain independent
Professionals who have completed Green Belt earlier
Offered as
a. Public Training – Calendar Program
b. Corporate Program – Standard or Customized, Continuous or Phase wise
Before Workshop
a. Public training – Pre-course study material is provided
b. Corporate training – Shadow sessions to customize material and delivery
After Workshop
a. Public training – Project guidance for first Black Belt project by each participant
b. Corporate training – Project coaching, if needed
Forthcoming Lean Six Sigma Black Belt Programs
[ecs-list-events cat='lean-six-sigma-Black-belt' venue='true' limit='5′ order='ASC' viewall='false']
Salient Features:
Facilitated by Multi-Industry Expert
54 Hrs of Instructor Led Classroom Training
Thorough Minitab practice during workshop
2 Simulation projects
54 PDUs for PMI credential
Globally Recognized Benchmark Six Sigma Certificate accredited by Exemplar Global
Membership of largest Business Improvement Community
Free Online Project Assistance
Additional Project Completion Certificate
Training Package:
Pre-training Preparatory Material
Course Material Kit for Black Belt Body of Knowledge
Data and Templates for Analysis
6-12 Days of Instructor Led Classroom Training
300+ Practice Questions
Lean Six Sigma Black Belt Examination
Globally Recognized Certificate with lifetime validity
Post-training online webinar for future guidance
Refreshment and Lunch on all training days
Request Information
To learn more about Lean Six Sigma Black Belt Certification Course, its uniqueness and advantages as applicable to your specific situation, fill out the fields below. You can also call +919811370932 to speak to one of our Program Advisers.
* All fields are required.
Lean Six Sigma Black Belt classroom programs with unmatched advantages

Some / Industry Acceptance
We started our programs in 2001 and most accreditations started later. We provide Exemplar Global accredited globally valid certificate.
We guide participants through cases from different industry sectors which come from real experience in those organizations.
Each facilitator for these workshops is a corporate coach and consultant.
We have been enhancing our Black Belt training methodology every year since 2003.
We integrated Lean and Six Sigma in our programs more than a decade ago.
Training is the beginning. We engage members with 2 questions every week to facilitate ongoing learning.
We provide additional coaching to our participants when they implement projects at their workplace.
The facilitator has significant training experience in manufacturing as well as services.

Use of multi-sensory approaches is our forte.

We explain the linkages with Robotics Process Automation and Business Analytics as part of Black Belt program.
Our Forum is one of the top three in the world and has 53000+ members.
We provide well integrated programs from GB to BB to MBB regularly.
The facilitator has conducted hundreds of Lean Six Sigma programs.
The training is rated as excellent by thousands of participants.
You can expect the most engaging training experience ever.
We provide a life long free excel based software to our participants.
Periodic free webinars for all our participants.
Benchmark is truly setting a benchmark in the domain of Lean and Six Sigma, with the best in industry and up to date concepts and reference to the real life situations, thus making understanding and absorption of concepts much easier, almost like you're part of a fun event for those 6 days.
Tarun Gupta, Deputy Director, S&P Capital IQ
The Trainer has got good command over the subject with an excellent delivery mode, which makes it easy for the participants to follow.
Sachin Mainra, AVP, HSBC Electronic Data Processing India Pvt Ltd
To get your concepts clear, Benchmark is the place where you must get trained from.
Kavitha Prasad, AVP, Cigna TTK Health Insurance
A simple and wonderfully organized course that gives a 'practical and real life' introduction to Lean Six Sigma.
MK Govind, VP- Operations, Connexios Life Sciences.
Benchmark in true sense really sets a benchmark in the course delivery style and format. Look forward for the MBB certification as well.
Shib Banerjee, Global EHS Manager, Amazon
The training program is comprehensive covering all the required areas of Lean Six Sigma that we should be aware of, Trainers are very knowledgeable to give real life examples on situations at work environment which can be related, helps in easy understanding on the concepts
I had good learning experience at Benchmark for Six Sigma Green Belt and Black Belt.
Thank You !!
Vijaya C, DGM, Mercedes Benz R & D India
Knowledge acquired through Benchmark's BB training can help me identify and solve many of the ongoing challenges experienced with our clients. Detailed understanding of the concepts and strengthening on the LSS foundation has been favorite part of my course. It was a great training session!!! Amazing instructor!!
Yatin Sanghvi, Senior Manager, Accenture
Lean Six Sigma Black Belt training by Benchmark Six Sigma was very informative . The real life examples helped a lot . Thanking Benchmark for useful session and forums that are available for future reference.
Sridhar Gopal, Account Lead, IBM
Training was very informative with simple understandable examples which was really great. Overall it was great learning experience with Benchmark again. Appreciate your assistance to enhance our knowledge.
Zubia Durdana, Associate Manager, Quintiles
Excellent training program. Excellent trainer. Very good course material.
Arjun Kumar Sahu, Manager QA, Coca Cola