Pioneers of Lean Six Sigma Green Belt in India
5 out of 5 stars (based on 715 reviews)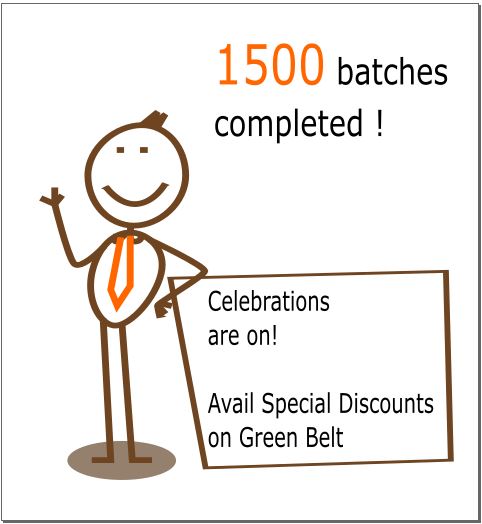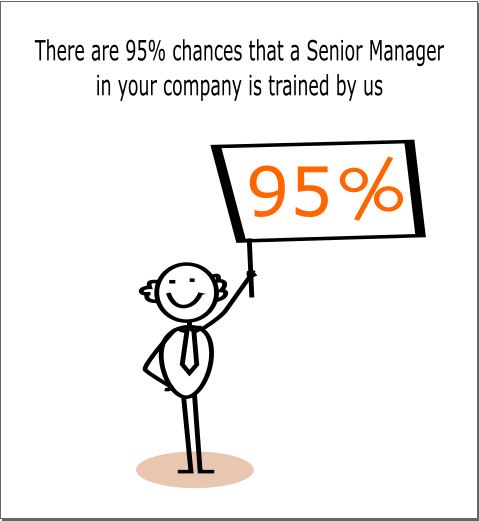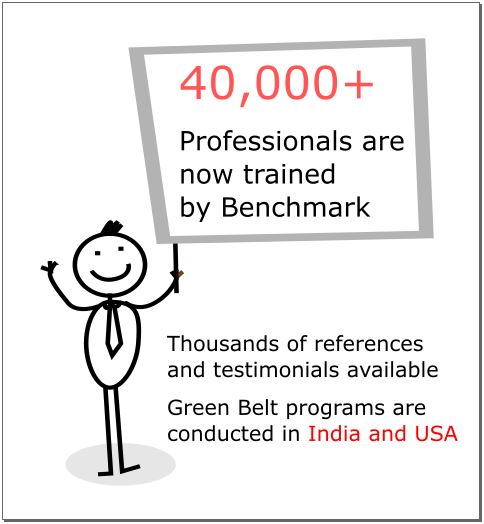 What is Lean Six Sigma?
Lean Six Sigma presents the world's best business problem solving methods in a single capsule. Benchmark Six Sigma has been coaching and consulting the leading corporations in more than 30 Industry Sectors. The facilitators of our program have been consultants in multiple domains and have expertise in applying Lean Six Sigma and generating benefits worth millions of dollars.
The goal of Lean Six Sigma Green Belt programs is not only to help participants build competence but also to gather practicable understanding so that they can apply the learning at their workplace. This program is offered in both corporate and public training format.
Number 1 in India
Benchmark Six Sigma is number 1 for Lean Six Sigma Green Belt in many ways.
In 2001, Benchmark initiated the first Lean Six Sigma Green Belt program in India. The only other provider in India at that time was Motorola University from USA. The program has been evolving and is reviewed and revised every year.
We train the largest number of Green Belts in Public and Corporate programs (1500+ every year).
The large network of Benchmark Six Sigma trained business excellence professionals has now crossed 40000. You can find a Benchmark Six Sigma certified professional in every large company in India.
The number of Green Belt programs completed has crossed 1100 in 2019.
We moderate the largest Lean Six Sigma learning community (among top three in the world).
The largest number of hiring requests in this community are generated from within our network, several of them are fulfilled indirectly through our forum.
Here are 15 key elements that differentiate us from others.
Offered as
a. Public Training – Calendar Program
b. Corporate Program – Standard or Customized, Continuous or Phase wise
Who Can Benefit
Professionals who wish to solve business problems using a structured approach can benefit from Lean Six Sigma Green Belt.
Anyone who wants to improve an Organisation's performance.
Process Improvement team members who wish to carry out improvement projects.
Any progressive management professional who wants to bring change for the better.
Anyone who wants to build competence that is domain independent.
Salient features:
Facilitated by Multi-Industry Expert
36 Hrs of Instructor Led Classroom Training
Thorough Minitab practice during workshop
2 Simulation projects
36 PDUs for PMI credential
Globally Recognized Benchmark Six Sigma Certificate accredited by Exemplar Global
Membership of largest Business Improvement Community
Free Online Project Assistance
Additional Project Completion Certificate
Training Package:
Pre-training Preparatory Material
Course Material Kit for Green Belt Body of Knowledge
Data and Templates for Analysis
4 Days of Instructor Led Classroom Training
200+ Practice Questions
Lean Six Sigma Green Belt Examination
Globally Recognized Certificate with lifetime validity
Post-training online webinar for future guidance
Refreshment and Lunch on all training days
Request Information
To learn more about Lean Six Sigma Green Belt Certification Course, its uniqueness and advantages as applicable to your specific situation, fill out the fields below. You can also call +91 9811370932 (India) or +1 513 657 9333 (USA) to speak to one of our Program Advisers.
* All fields are required.
Lean Six Sigma Green Belt classroom programs with unmatched advantages

Some / Industry Acceptance
We started our programs in 2001 and most accreditations started later. We provide Exemplar Global accredited globally valid certificate.
We guide participants through cases from different industry sectors which come from real experience in those organizations.
Each facilitator for these workshops is a corporate coach and consultant.
We have been enhancing our training methodology every year since 2001.
We integrated Lean and Six Sigma in our programs more than a decade ago.
Training is the beginning. We engage members with 2 questions every week to facilitate ongoing learning.
We provide additional coaching to our participants when they implement projects at their workplace.
The facilitator has significant training experience in manufacturing as well as services.

Use of multi-sensory approaches is our forte.

We explain the linkages with Robotics Process Automation and Business Analytics as part of Black Belt program.
Our Forum is one of the top three in the world and has 53000+ members.
We provide well integrated programs from GB to BB to MBB regularly.
The facilitator has conducted hundreds of Lean Six Sigma programs.
The training is rated as excellent by thousands of participants.
You can expect the most engaging training experience ever.
We provide a life long free excel based software to our participants.
Periodic free webinars for all our participants.
Attended the Six Sigma Green Belt workshop from Benchmark: It was an extremely insightful session. Great examples; Great faculty; Content had a good mix of theory, practice and real life examples. Extremely professional and patient faculty. Very content and happy to have attended the workshop.
Srinivas Sandepudi, Sr Consultant, Ernst & Young
Benchmark does not treat 'Six Sigma' as Jargon but puts it across as a simple but effective tool. This gives a good comfort level to a beginner & inspires to take the next step in the world of quality.
Umesh Shetty, Associate VP, HDFC Standard Life
The focus of the course has been to explain the concepts behind the SS approach and to equip us with tools to use the same. It will be really useful in the projects I take up going forward.
Nandhagopal Muralithar, Senior Business Analyst, NIIT
The overall training of Lean Six Sigma was comprehensive. The content structure was excellent. The trainer covered the topics very well. Thank You!
Senthil Murugan Packiam, Shift Operations Manager, Thomson Reuters
Great session.. Interesting and good knowledge sharing, well organised & focused content and knowledgeable trainer.
Srijan Sharma, Student- MBA Tech, NMIMS
Benchmark's program on Lean Six Sigma Green Belt is well devised to suit the intellect of the new bees. Topics were well explained with expertise on the subject matter. Queries were well explained with relevant practical examples which I could relate as a part of learning process.
Saounak Lahiri, Asst Manager Quality, Godrej & Boyce Mfg. Co. Ltd
Excellent training sessions!! Trainer made statistical concepts easy to understand.Nicely explained each topic of course. Great job done!
Swati Madiye, Senior Analyst, General Mills
The content of the course is well structured. The real life examples taken by the trainer during the course increase the interest in implementation of Lean Six Sigma methodology.
Vinod Amritkar, R&D Head, Abhay Nutrition Pvt Ltd
Magnificent trainer with excellent coverage of all Green Belt topics, techniques & tools. Real market scenarios discussed with many examples being worked upon as well. Flow of concepts made understandable without any stress about the difficulty level involved.
Nikzad Shahmardani, General Manager, EPRSS Prepaid Recharge Services India Private Limit
Thank you Benchmark. Great coaching skills and well imparted training for the GB. Keep enabling future leaders.
Santosh Kumar Nandi Duli, Senior Manager, Thermo-Fisher Scientific
Good overall.
I really liked the course content, trainer way of interacting and delivery method.
Course structure was very nice.
Way of engaging participants and course structure was very nice.
Great platform!
The course structure and the pacing of topics was good. Great platform to start off the change journey of oneself.
The training was very well organised!
The training was very well organised and the trainer was excellent. His training approach and delivery is really wonderful. From my training experience I can acclaim that Benchmark Six sigma is setting a Benchmark of performance for other training providers. Everything was so well organised and trainers are excellent!
DMAIC
The techniques applied in DMAIC to identify a problem, root cause and to resolve it were interesting.
Benchmark team is the best!
Benchmark team is the best, setting benchmark for others on how to be cost effective and achieve Quality in teaching this subject. The trainer masters in all subjects and teaches with ease.
Enjoyed it.
I enjoyed the graphical charts inference part of the training the most.
Great Training!
Arrangements done by the team and method of training were great. Joining Benchmark for courses, will lead us to be in the top. The trainer has deep knowledge on the topic and makes training session active and live.
Good training.
All the topics relating to Lean Six Sigma were well covered.
Amazing training!
I like the way the topics were presented on hitting the main points and I also like the way the class was organized and the presenter did give good notes. The quizzes and online assignments are very helpful for the test. Thank you for a wonderfully practical course. Very easy to listen to and the course was just the right mix of theory, practical demonstration and anecdotes. I can highly recommend it as an introduction to LEAN SIX SIGMA. I liked trainer's enthusiasm, and the fact that he was always on time and very organized, kept the schedule and he graded fairly. I think he enjoys teaching this course. The material is interesting and clearly structured.