Once when asked what he does, if the data does not support his decision,
John Maynard Keynes replied – "I change my opinion. What do you do?â€
In a haystack of information today, that one thing which helps organizations take sound decisions is the 'analysis of data'. Often, companies find themselves in situations where from a variety of choices, they need to pick one. In such cases, data-driven decision making enables following a systematic procedure. A successful completion of any process begins from a decision well made. It forms the first step of any execution process, and is thereafter followed by modification, as and when changes in information arise.
The question that one would ask then is – 'If it is data that is needed, then exactly how much of it?'. Authors like James Taylor and Stephen Covey, in their writings explain keeping 'the end in mind' before undertaking a course of action. They say that the goal is never to build on the data; rather it is to use the facts to make work easier. Thus, the perfect quantity would be one which helps an organization make 'timely' as well as 'correct' choices.
But even a manager's power to predict can do this job, isn't it? On digging deeper we realize that the 'intuition' we are referring to is nothing but the gut feeling that arises based on a manager's experiences of the past, and thus its own roots lie in data as well. What people actually follow is 'informed intuition' – that uses previous occurrences as its basis. This is justified, since not only is complete information necessary, but also alongside is corporate alignment and clarity.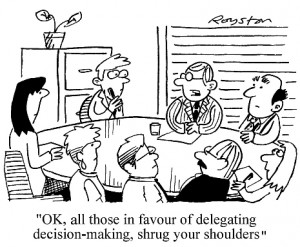 These days, a term that managers often hear is 'big data' – which refers not only to the volume of data available, but also to the variety of it and the rapid pace at which it alters. Big data brings with itself the complexities of processing and interpretation, causing confusion and delays. It is here that just-the-right-kind of filtration is needed, to separate what is relevant and what is not.Infact sometimes, even lesser amounts of data can lead to better decisions being taken. As they say, the 'first impression' can indeed be beneficial if taken as the 'last impression'. This is exactly where the use of instinct comes into picture. Whether it be studying a consumer insight or predicting the future, it is a blend of analysis and a manager's intuition that leads to the apt solution. In a post in Forbes, Robert Carraway, a professor at the Darden School of Business said that big data and the increasing use of frameworks require not less, but a higher amount of managerial insight to accompany them.
There have been faults based on judgment (remember Google claiming to overtake Firefox when launching Chrome?) ; and so exist popular crisis due to over-reliance on data. The idea hence is to strike a balance between these two seemingly different ways that managers use to reach a conclusion. The more an association can accommodate diversity in terms of style, emotions and experiences, the higher is the probability of improved performance.
In a nutshell, if a corporation can make sure that it has as members both left-brain and right-brain thinkers – it can strike the nail on its head!
(*source for the cartoon : Google images)
Note - Visitors shall not be able to comment on this article until they are logged in.