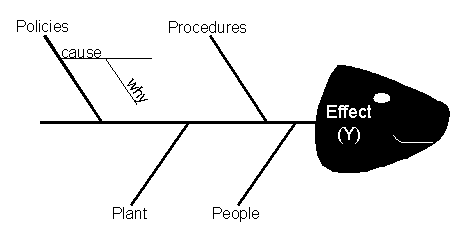 Has there ever been a time when the team had come up with different causes of the problem and all seem to make some sense?

Fishbone diagram helps to systematically place those concerns in a  diagram to better understand what aspect of the process one is dealing with.

Out of the many sources of a given problem, the Fishbone Diagram helps display the reason behind the root cause. In a case where little data is available for analysis, the Fishbone Diagram presents a clear visual picture of the causes and their subsequent effect. Also known as the Ishikawa Diagram, it assists in bringing about a sturdy solution.
It starts with a single problem statement which the team has agreed upon. The 'bones' of the Fishbone Diagram could vary depending on the sector for which this tool is used. For example, in the service industry, they could be policies, procedures, people, and plant, whereas in manufacturing, they could be machines, manpower, material, methods, etc.

Each subject matter can bring up a potential root cause, and the diagram makes a note of it along with a 'why' question. Prioritization and validation of the key issues help in preparing a well-designed diagram that even a larger audience can understand and take an action upon.
See full story on isixsigma.com