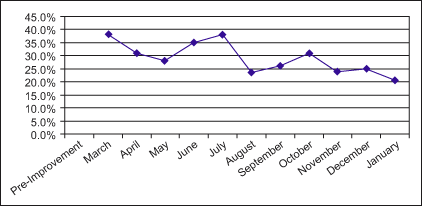 Orthopedic surgeries are time consuming. But when one looks at the process from a  macro view, they realize that time is being consumed at many stages of the process and that enhancing the process can bring down the turnover time.

Memorial Hermann Southwest Hospital in Houston decided to undertake a DMAIC project to understand the delay in time to prepare the Operating Room (OR) and to increase efficiency in the case wherever possible.

The implementation of Lean Six Sigma in healthcare was taken up by the eminent personnel, who wanted to ensure better resources available for Orthopedic and Neurological spine surgery.

The goal was to decrease variability. The OR turnover time was defined as the time between one patient leaving, and the other getting in. As such, the upper specification limit was decided at 25 minutes. But, depending on the faulty calculations of the release time by the nurses, this limit exceeded by 5 to 15 minutes, which lead to a 40% defect in the system.

DMAIC equipped the team with tools such as the fishbone diagram. The team came up with two crucial issues that required immediate attention; improper positing of patients by attendants, and non-availability of proper equipment when required. In many cases, an incomplete cart also caused a significant delay.

The project involving Lean Six Sigma in healthcare helped implement positive changes such as electronic flagging to keep a track of the required equipment. The case cart process was improved by including a review sheet at a part of the pilot project. This sheet was made available to the OP and the CPD such that the system could run more smoothly, and in case of any deficiency or discrepancy the system would be more aware
.
The DMAIC project, when rolled out, resulted in a 39% improvement. A Work-Out session was implemented to create staff specialization that would help the physicians more accurately. This resulted in a patient care environment in which attendants were available 71% of the time that increased to 98%, with Lean Six Sigma in healthcare.

The baseline which was decided at 24 minutes initially was improved beyond this to 20-21 minutes. The defects dropped from 40 to 21%. The project increased the satisfaction of the surgeons, and proves that looking for variation and defect is better than concentrating on averages.
See full story on isixsigma.com