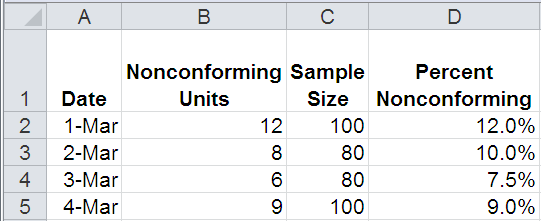 What is the data that is required for defects? The date, number of defects, the sample size to calculate the defect, and the percentage on unusual units. Once the data has been organized into columns, it becomes easy to create p chart, u chart, and even the XmR chart.

Control charts expect a data worth of more than a couple of years. The same data can be used to predict infection rates for hospitals as well as any other forecast for a back room operation.

Once the data is understood, Excel add-in, QI Macros can be easily used to create the Control charts. For a p or a u chart, nonconforming/sample size is used. While a p chart predicts the item to be good or bad, u chart can illustrate multiple defects in the item.

For turnaround times, response time is what is usually recorded. Therefore for plotting and predicting the results the charts contains either met or missed data. Six Sigma concentrates more on % missed that met, so that the underlying issue can be tackled. Turnaround times can also be shown in terms of hours, minutes, or even days.

QI Macros help represent such data in the form of XmR charts or histograms. To conclude, control charts, best used by the industry are p, u, and Xmr. The required data when plotted in columns make representation and consecutive prediction easier.
See full story on qualitydigest.com