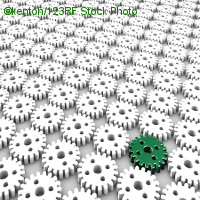 The process improvement tool 5S is like a simple concept to implement. A 5S initiative falls under two categories – 1. Department specific and 2. Corporate –wide. A successful 5S deployment path is one that is in sync with a company's strategic plan and priorities, and adds value by optimization of resources.
5S initiative that is most likely to lead to the best results is the one that follows the integrated-with-the-process model of implementation. Data shows that integrated-with-the model process may be more effective as it offers timely feedback, visible accountability and the chance for instant mitigation. The integration of the 5S elements into the core processes promotes the dynamic interaction of the 5S elements within the system that would likely increase its sustainability; the 5S stand-alone model may require more maneuvering by team members to ensure the dynamic relationship with the processes. 5S Integrated-with-process Model has more opportunities for aligning 5S activities with business priorities and added value in comparison to the stand-alone model. Examples also corroborate that the 5S integrated-with-the-process model offers many benefits in comparison to the stand-alone model and guarantees process improvement.
The do's for a successful 5S Initiative are – keep the initiative simple, define the company's success metrics and review the initiative periodically. The areas of implementation must be prioritized based on risk assessment and cost list only the tasks that can be realistically achieved.
5S is more than a form or a procedure – it is a discipline that needs to be understood, embraced, implemented and continually measured by the workforce for the program to be effective and add value.
See full story on isixsigma.com